2009 GeoSpatial Summit
The NYS GIS Association and the NYS Office of Cyber Security & Critical Infrastructure Coordination are pleased to announce the fourth annual NYS GeoSpatial Summit. This will be another great opportunity to hear the perspectives of top geospatial leaders and network with other GIS professionals.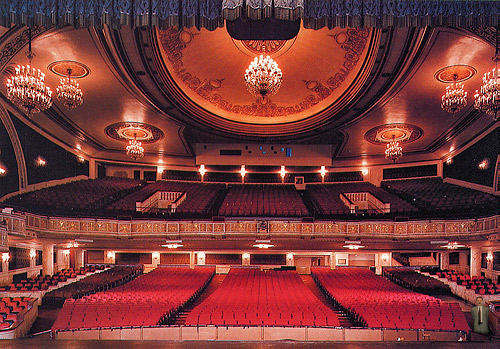 New this year: Summit registration includes Free membership in the NYS GIS Association ($10 annual dues waived for Summit attendees). If you have already paid your membership dues this year you will be credited for next year's dues.
Proctor's Theatre - Schenectady, NY
May 20th 8:00 - 5:00
Evening Reception
May 19th 6:30 - 9:30
2009 Speaker Lineup

Speakers have been confirmed and the agenda has been created. The 2009 NYS GeoSpatial Summit will be held on May 20, from 8:00am - 5:00pm at the newly renovated Proctor's Theatre in Schenectady, NY. The event is targeted for GIS professionals who want to look beyond the technical issues and hear what's really shaping GIS in NYS and around the country.
The Pre-Summit evening reception continues to be one of the highlights of the Summit event. This years evening reception will be held on the Proctor's Main Stage on May 19, from 6:30pm - 9:30pm. Don't miss this chance for great food and conversation. Mingle with our speakers and other Summit attendees while enjoying fine hors d'oeuvres and musical accompaniment.
2008 Summit Review
"It Doesn't Get Any Better Than This!"
Pictures and Comments from Summit 2008
WHO WAS AT 2008 SUMMIT?
See where people came from and what organizations they work for!